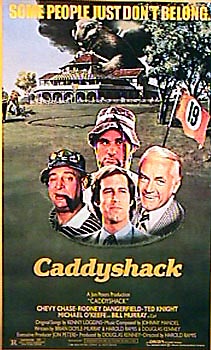 copyrite 1980 Warner Bros.
Caddyshack
1980 Warner Bros.
The Snobs Against The Slobs - That pretty much says it all. There's just something about a movie that has a dancing gopher, a burnt-out grounds keeper Carl (Bill Murray), a overly inflated ego-ridden golf club president Judge Smalls (Ted Knight), a zen practicing, country club regular Ty Webb (Chevy Chase), a"Happy-go-lucky" guy magnet Lacy Underall <snicker> (Cindy Morgan), a Catholic Bishop (Henry Wilcoxon), who has a "religious experience" during a golf outing in a thunder storm (haven't we all?), irregular new, out of line and vulger member Al Czervik (Rodney Dangerfield), that all centers around a struggling, middle-class, comes from a big Irish family highschool kid by the name of Danny Noonan (Michael O'Keefe), who's working as a caddy at the country club to make enough money to go to college. Something alot of us middle class Irish kids never really had the opportunity to do during that time (late 70's - early 80's).
Other sub-plots of the movie focus on Lacey and Tie, Lacey and Danny, drugs, drinking and smoking pot, to which today would be looked upon as a disgrace. But hey, it was the 70's-80's! It also centered on the illegal inside betting among club memebers and caddy's alike when it comes to the 'scholarship' tournament that eventually finds Noonan in the center of the controversey. The end of the film left a little bit of ambiguity as to how Noonan went on but you can't help but love the end sequence when 'Carl' blows up the golf course to get at that 'pesky', outwitting gopher! Let's not forget that infamous line Dangerfield delivers just before the ending credits roll "Hey everybody! We're all gonna get laid!" Whoo-hoo!
It's such a fun and up-beat movie that has a silly story line, but great music from Kenny Loggins, "I'm Allright" , Journey "Any Way You Want It!", and much more! The title song "I'm Allright" is enough to just pick you up if your a bit down and keep you going. Just the thought of a dancing gopher is enough to make you laugh at it's antics of tearing up the golf course. Okay, so I'm a tad devious. Can't help it. (smiles).
This move is obviously now a classic that brings back such memory's of the same years I was in highschool trying to figure out what I was going to do afterwards. To be able to just sit here and watch the movie when ever I want to now, would have never entered ones mind then to even think we'd have the technology to do so. Shoot! We were lucky if we had a free Showtime weekend to be able to see it. No such thing as VCR's then.
You can get the Video or DVD from Amazon.com or Amazon.ca.
That 'Loveable' gopher!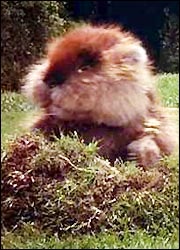 copyrite 1980 Warner Bros.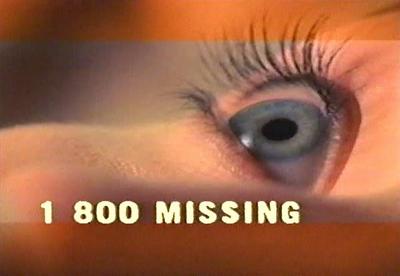 The show, based on the books 1-800-Where -Are-U by Meg Cabott , premiered in early August with record network viewer ratings. It was originally contracted to air 13 episodes originally but after the record ratings was tagged with 5 additional episodes rounding out the season with 18.
The series centers on a special missing persons task force formed by F.B.I. Special Agent In Charge Alan Coyle, S.A.I.C., (Dean McDermott, Due South, Power Play, Open Range), after he instructs one of his agents Brooke Haslett (Gloria Reuben, E.R., Homicide - Life of the Street), to investigate a college student, Jess Mastriani's (Caterina Scorsone), psychic ability to find missing persons with visions she gets in her dreams.
A reluctant Jess can't understand herself but thinks it may have something to do with being struck by lightning one night while trying to talk her brother off of a bridge during one of this dilusional episodes. She finds herself being taken in to custody by Brooke to investigate further her ability.
After a brief testing session Jess finds herself in a meeting with Coyle and Haslett discussing her abilities and that the F.B.I. could use her as a special consultant in finding missing persons. Brookes skeptical and reluctant about this new team but is given no choice in the matter when Alan assigns her the position and welcomes Jess to the F.B.I. The team adds up to Alan Coyle, S.A.I.C., agent Brooke Haslett, Sunny Estrada (Justina Machado), and Jess Mastriani.
I'm not going to spoil it any further. If you'd like, you can catch the show on Saturday's at 10:00pm Eastern on Lifetime Network.
Well, since the last time I updated this site alot has happened with "1-800-MISSING". The good news first. The show was renewed by Lifetime network for a second season with a firm 13 episode commitment. The bad news: Gloria Reuben (Brooke Haslett), will not be returning to the show to further persue other projects in the business. Vivica Fox will be joining the cast of the show to replace Ms. Reuben.
Principal filming for the show should begin in April with the first episode of season 2 to air some time in July on Lifetime Network in the States.